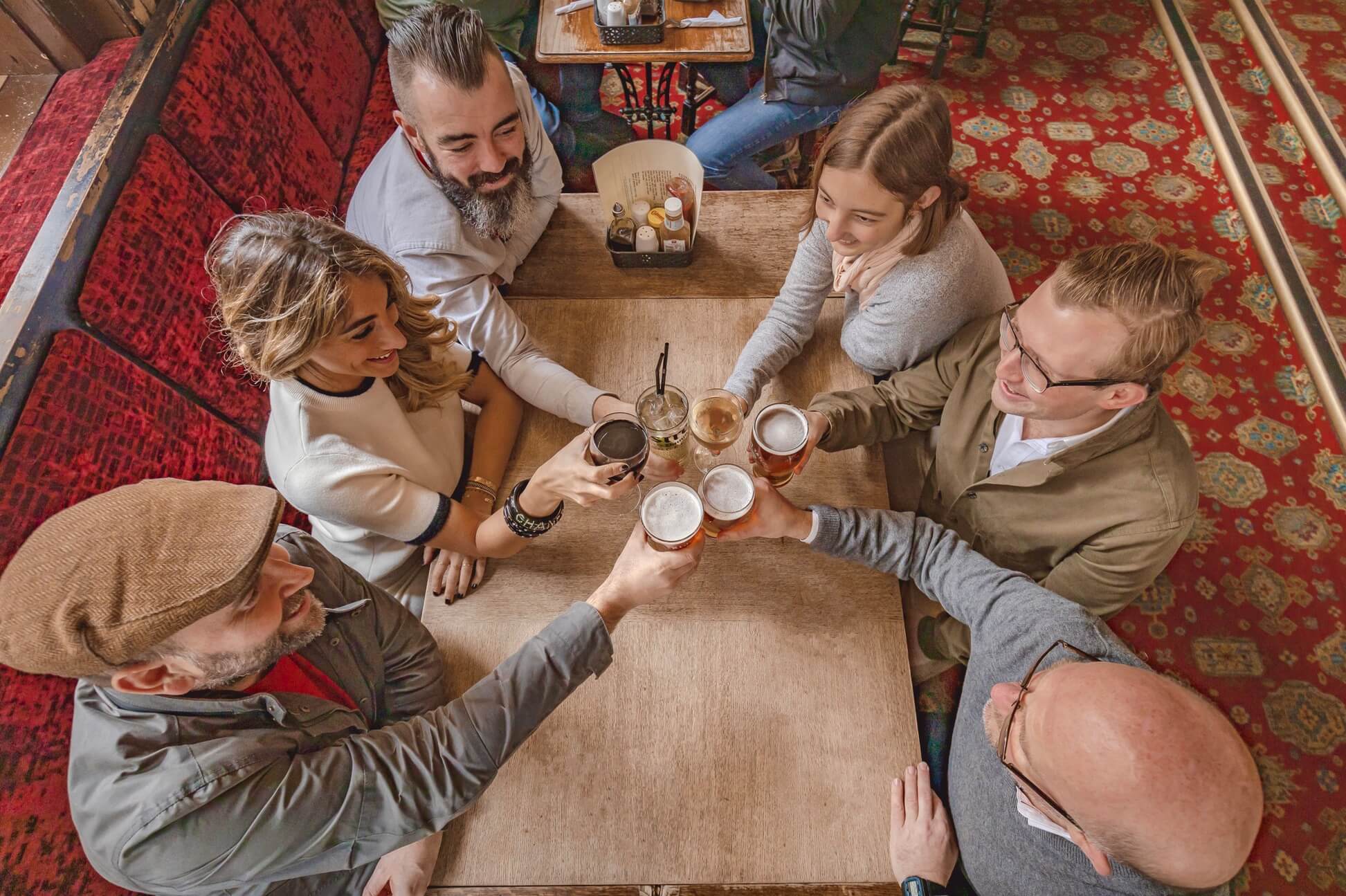 Frequently Asked Questions
Small groups, local guides and a smattering of quirky history reveals a London not found in the guidebooks.
Definitely! We operate limited group sizes, so all reservations must be completed in advance of arrival
Yes, every tour is guaranteed to run with just one participant, and the average group size is around 10 people
No drinks included, so you can indulge as much or as little as your heart desires. Budget £5 a pint or £2.50 for a half-pint
No problems. Each pub has a wide selection of drinks including non-alcoholic selection for tea-totallers
We visit a minimum of 4 pubs, usually 5, and sometimes 6. The record is 13 and a gin distillery, but you'll need a private tour with us to attempt that record.
There's no time for a sit down meal, but a good selection of bar snacks and should help keep you vertical along the way.
Our classic Drink London tour starts outside St.Paul's underground (Exit 2) for a 2pm start.
We aim to finish close to Holborn tube station between 5-6pm, but often finish in the Fleet Street/Strand area.
Never be later than 5 minutes early. We leave the start point at 2pm, and if you miss the guide maybe try to catch them at the Blackfriars pub.
We cover around 2 miles, with a few steps and gentle inclines along the way. If joining us in a wheelchair then drop us a line so we can advise further.
We recommend participants have a minimum age of 18 years, to enjoy the walk at its best. Those lucky enough to look under 25 years of age are requested to bring photo ID with them
English only I'm afraid, with plenty of gesticulation & facial expressions thrown in for good measure.
If we can, we will. So send us an email and we'll let you know if we can shoehorn you in for the fun.
Full refunds available for any amend or cancellation outside 72hrs of departure.
We allow one free of charge date change outside 72hrs of departure. Further changes will be subject to a rebooking fee of £7.50pp.
We get wet, but the pubs are always waterproof! London is drier than Rome & Jerusalem so if it does rain then count yourself lucky.
We love dogs, are emotionally indifferent to luggage and have never owned a pushchair. However, this does not apply to all the pubs we visit, so please email us and we can advise further.
Never expected but always appreciated. A drink along the way, a spectacular hi-five, or sometimes cold hard cash is a great way of letting us know that you've enjoyed the walk with us.
Is the Pope Catholic? Of course you can, and we love tailoring a bespoke experience to match your needs and thirst. Click here for more info…
Do you like pubs, history, walking, and London life in general? Speak English and able to work in the UK? Enjoy people and sharing great tales with visitors from near & far? Just send us an email with a recent CV and we'll be in touch
Rumour has it she quaffs a gin & Dubonnet with a slice of lemon prior to lunch. Moving onto a glass or two of wine with her meal and then a snifter of champagne for dinner. Cheers!
Vancouver? Toronto? Winnipeg? Montreal? Not even close.